Description
VECTOMEGA® by Terry Naturally
Dietary Supplement
Recommendations: 2 per day for 30 days, then 1 per day thereafter. May continue with 2 per day for enhanced benefits.
Vectomega® is a revolutionary form of Omega-3 fatty acids from salmon. It is not a fish oil! Instead, the natural Omega-3s are bound to phospholipids that are more effectively absorbed than fish oil triglycerides. This means you only need to take one tablet a day to support heart and brain health!*

• Omega-3s from salmon as nature intended, in the exact form
your brain uses best
• 2:1 ratio of DHA/EPA—never chemically altered or artificially spiked
• Five types of heart and brain healthy phospholipids,
including phosphotidylserine
• Unique bioactive salmon peptides not found in any other
Omega-3 products—for mood, brain, and heart health*
• Extracted without chemicals, solvents or excessive heat
• Third party tested for purity—no concerns with toxins,
heavy metals, or contaminants
• Hexane-Free
• Great stability, zero rancidity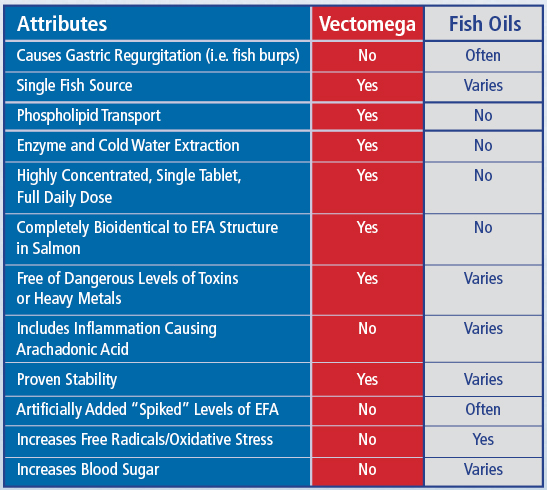 SUPPLEMENT FACTS
Serving Size: 1 Tablet
Servings Per Container: 30,
Amount/Serving
Daily Value
Omega-3 Phospholipid
Peptide Complex
292 mg
**
Containing Phospholipids, Omega-3 [DHA (docosahexaenoic acid) and EPA (eicosapentaenoic acid)] and bioactive peptides extracted from Atlantic Salmon (Salmo salar), in a balanced ratio as found naturally in salmon; not chemically altered or artificially spiked with DHA/EPA

**Daily Value Not Established
Other Ingredients: maltodextrin, tricalcium phosphate, gum arabic, modified cellulose, silica, citrus essential oil, titanium dioxide, microcrystalline cellulose, stearic acid, iron oxide.
No: sugar, salt, soy, yeast, gluten, corn, dairy products, artificial flavoring, or artificial preservatives.
Heavy metal analysis conducted on every batch using ICP-MS method and found to be pure and safe.
If pregnant or nursing, consult a health care practitioner before using.Product of France
VECTOMEGA®
How it Works
Vectomega® is unique in that it is an omega-3 fatty acid supplement in tablet form. It is extracted from the head of wild-farmed salmon, which is rich in phospholipids. Phospholipids are very effective transporters of omega 3 fatty acids (EPA and DHA), and research  on phospholipids shows better intracellular absorption rates than fish oils.
Atlantic Salmon (Salmo salar) [Phospholipids, Omega 3 [DHA (docosahexaenoic) and EPA (eicosapentaenoic)] and hydrolyzed peptides]
Omega-3 fatty acids are widely recognized for their benefits in supporting heart and brain health. In one study, an open clinical trial, participants experienced significant support in healthy total cholesterol levels already within the normal range, and a 13% increase in HDL levels.*1,2 However, traditional fish oil studies that have obtained similar results used a range of 3.6 g – 4 g or of fish oil/day (equating to approx. 3,400 mg a day of combined DHA and EPA). Because of the superior absorption of phospholipids, the recommended dosage level of Vectomega is much lower – only one to two tablets per day to experience benefits.
VECTOMEGA®
Newer studies show that supplementing with fish oil may not be as effective as simply having fish in your diet. But remember, Vectomega® is not a fish oil supplement, so the rules of fish oil do not apply. Vectomega® doesn't have the toxin or heavy metal concerns, free radical damage, excessive triglycerides, rancidity, upset stomach, sugar spikes, or fish burps that you see with fish oil. Plus, with Vectomega®, there is no damage to the ocean's wildlife.
Take a look at this recent article comparing fish oil supplements to actually eating fish, and remember, Vectomega® is the closest you can get to eating salmon for natural omega-3s – simply in a more convenient form.